YogaQiFlow
Yoga for stress relief
Yoga Qi Gong - the magic mix
In traditional yoga, the 'asana' is practiced to prepare the body for meditation. Qi Gong on the other hand already is a movement meditation.
Yoga Qi Gong – the combination of these two – then becomes an even more powerful tool to strengthen your self awareness so you become the observer of your body, mind and soul.
While most people have tried yoga nowadays, Qi Gong is not that well known, yet.
If you practice yoga in a spiritually connected way and not just for fitness purposes, you are already able to feel and observe the energy flow in your physical body while practicing the yoga asanas.
Fusing Qi Gong into the Hatha Vinyasa Yoga practice, creating Yoga Qi Gong, elevates your awareness to the next level and enables you to be truly present with whatever is happening in your body, mind, emotions and life itself. Coming into the role of the observer supports in the process of acceptance to what is, leading eventually to accept the constant change we experience in our daily life.
Let me know when you are free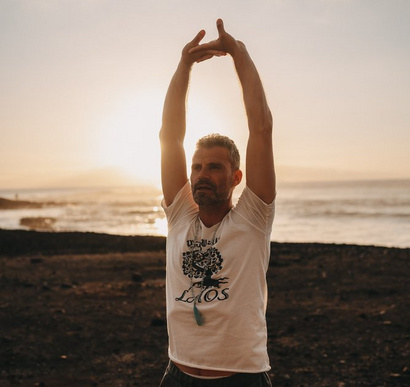 Practice YogaQiFlow with me in Tenerife, Canary Islands
A few years ago, I choose to live and work in Tenerife, because of the magical energy of the volcanic island, which creates a special place for anyone who wishes to deepen their spiritual practice and self awareness.
If you are already on the island, contact me for a single session, visit one of my yoga drop-in classes in the south of the island, or attend the Soul in Touch Bodywork training and become a bodywork practitioner yourself.
My personal Yoga Qi Gong history
I started to practice Yoga in 2009 and was fascinated how it touched my heart in a soft, yet powerful way. The combination of conscious movement and breath, combined with mantras broke my shell on the outside and touched my heart softly from the inside.
In 2012, I discovered 'Qi Gong' in a Thai Yoga Massage Course and was fascinated by the healing power of this ancient healing art. Ever since, I have been blending both healing traditions together – working with Yoga Qi Gong.
In 2013, I started my professional Formation to become a Certified Yoga Teacher, studying for 6 months at the Yoga Institute 'Soul of Yoga' in Encinitas (CA/USA). Keeping the connection with my heart, I developed my signature style Yoga what we know today as YogaQiFlow – a very intuitive way of practice, making Yoga not just a healing tool, but a personal piece of art.
How my unique style of Yoga Qi Gong may change your life
After practicing and teaching Hatha Vinyasa Yoga and Qi Gong for many years around the world, I created a special and very powerful way of combining the two: My signature style Yoga, called YogaQiFlow.
YogaQiFlow creates a strong foundation through the lower part of the body, so we can express grace through the upper part of the body and move as we truly feel at any given moment. YogaQiFlow is a divine way of self expression through movement, a dance of YIN & YANG, a self care tool for bringing your energetic body into balance and heal from within. YogaQiFlow brings a balanced mix of energetic and relaxing moments into your practice and leaves you with a sense of balance.
STAY TUNED FOR UPCOMING EVENTS
Subscribe to my e-mail list and get regularly informed about trainings, retreats, workshops and much more